Inov-8 Roclite 315 by Ian Parlin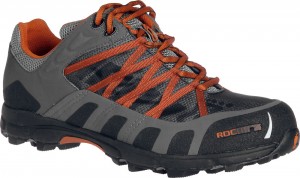 When I started wearing the Roclite 315 in 2006 it felt like a lightweight shoe compared to the 13-14 ounce trail shoes that most other companies seemed to be making, but now it's the heaviest shoe I own. After putting a few thousand miles on several pair of the 315's I have since moved on to more minimal trail shoes, but these shoes were built to last and I still have a few pair kicking around that I wear from time to time when I feel the need for something a little more substantial on my feet. These shoes will hold up to 1000 miles or more of rugged terrain so you can expect to have them for a while.
Price      $105
Flex       1 2 3 4 5 (stiff > bendy)
Grip       1 2 3 4 5 (slick > grippy)
Feel       1 2 3 4 5 (shoe > trail)
Drop      9mm (heel > toe)
Weight   315 g/11.1 oz
Outsole
The Roclite outsole has deep lugs with a relatively high percentage of open area providing excellent grip on most surfaces. The 315 uses an "Endurance Rubber" compound for the outsole material which is denser than the "Sticky Rubber" used on the Roclite 295 and several other models. The result is that the shoe doesn't grip as well on wet rock but the outsole has a longer life expectancy.
Midsole
9mm heel-toe differential. The midsole is made of a single density foam, soft and flexible and offering a good amount of cushion. There is a piece of plastic in the midsole that Inov-8 calls the Meta-Shank, it provides some stiffness in the back to middle of the shoe but allows for plenty of flexibility in the forefoot. Compared to the lighter Inov-8's this does seem like a fairly structured shoe, which makes it a good choice for people who are approaching trail running from a history of traditionally structured road shoes (which is where I was 5 years ago).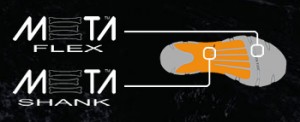 Upper
This has got to be one of the most durably constructed shoes out there, after 1000 miles there is virtually no significant damage to the shoe. The top part of the upper is a two layer mesh, a fairly open and breathable fabric covered with a fine screen-like material that adds strength. There is a band of leathery material that wraps the perimeter of the shoe providing good protection from all the things you'll likely stick your foot into on a technical trail. The only noticeable signs of wear that I've seen in the upper is that the outer mesh layer breaks down over the flex area of the toe box, but this is long after most other shoes would have completely worn out all together.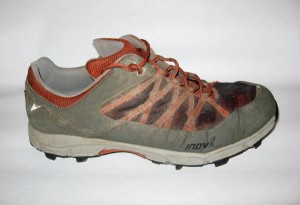 Here's a pair with about 600 miles on them
Fit
As with most Inov-8's the heel cup is fairly low but snug fitting enough to make the shoe feel secure. While I like the way the shoe fits for most of my running I did have some issues with the width on longer runs. Although I had done most of my training for the Bull Run Run 50 miler in these shoes in 2008, I found that after about 35 miles in the race my feet were swelling and there wasn't enough room in the shoe to accommodate the swelling, so I ended up with a few toe blisters. Since then I have switched to the Roclite 295 for very long runs since that shoe has a wider toe box.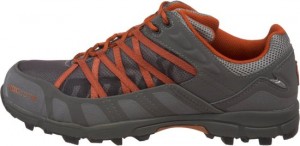 Use
I went through 4 pair of the 315's between 2006 and 2009 when I started transitioning into more minimalist shoes. I still have three pair of these which I break out from time to time, they last so long I just can't justify getting rid of them. The main reason I ended up with multiple pairs is so I could have a change of shoes during a long race or a dry pair to put on after a day of wet running. Since these shoes have more cushioning and structure than most of the minimal Inov-8's they are well suited to runners who are used to a more substantial road shoe. I have also found that these shoes hold up well to road miles, thanks to the "Endurance Rubber" outsole. Apart from a few changes in color over the years the general construction remains virtually unchanged, which is one of the things I really appreciate about Inov-8 shoes.
This shoes has been a favorite of many Trail Monsters over the past few years, but like me many of them have started to transition to some of Inov-8's lighter shoes.