Inov-8 Oroc 280 by Ian Parlin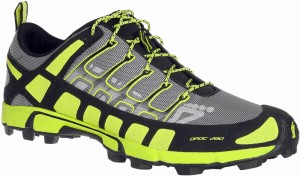 I picked up a pair of the Oroc 280's in December 2010 because I thought they would make a good winter shoe. Inov-8 calls this an orienteering shoe, I'm not sure exactly how that differs from a trail running shoe, other than that these shoes come with built-in metal studs in the outsole. I had hoped that the studs would provide traction on ice but they didn't perform as well as I had hoped. I now have over 300 miles on these shoes, and while I don't consider them an "everyday shoe" I'm glad I have them in my arsenal. Most recently I wore them at the Bradbury Scuffle and was pleased to come away with a new PR on the course.
Price      $125
Flex       1 2 3 4 5 (stiff > bendy)
Grip       1 2 3 4 5 (slick > grippy)
Feel       1 2 3 4 5 (shoe > trail)
Drop      6mm (heel > toe)
Weight   280 g/9.8 oz
Outsole
The outsole is what really sets this shoe apart. Inov-8 refers to the outsole as "dual-density" which means they use two different types of rubber. There are 9 metal studs – 6 in the forefoot and 3 in the heel – set into dense rubber lugs and backed with a plate meant to tie the large lugs together so you don't feel them individually. Surrounding these center sections of large studded lugs is a perimeter of smaller, sticky rubber lugs. This combination provides incredible traction on almost any surface (except tile floors!). I had hoped that the studs would be good on ice, but found that there wasn't enough depth to provide the grip I was looking for so I ended up putting a few sheet metal screws into the perimeter lugs during the winter months.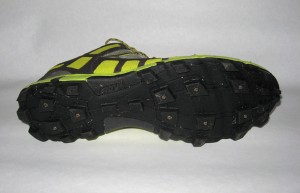 Midsole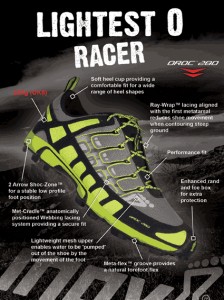 The midsole is pretty much the same as the X-Talon 212 with a 6mm heel-toe differential and built on Inov-8's performance last. The biggest difference is that the "plates" and denser rubber of the outsole make this a much less flexible shoe than the X-Talon 212. Don't get me wrong, it's still a flexible shoe by comparison to most other manufacturers, but is one of the stiffer Inov-8 models. Because of the denser outsole material you won't feel the trail surface as much as you do in the X-Talon 212. It's worth mentioning that in one of my first runs in these shoes I stepped on a golf ball sized rock that pushed one of the lugs into the ball of my foot causing a slight bruise. For several weeks I could feel that one lug whenever I ran on hard surfaces, but now that my foot has recovered I don't notice it any more.
Upper
This shoe has the same durable upper as the X-Talon 212, made of a very sturdy fabric with a band of leather (?) that runs around the perimeter for extra strength. The heel cup is low, typical to most Inov-8′s, but the like the 212 has a much softer heel without the typical plastic heel counter you'll find in most shoes. The only difference between these uppers and the 212's is the material used on the  tongue, a perforated neoprene.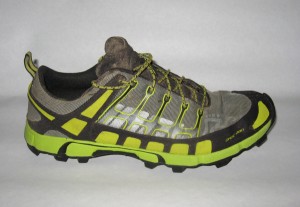 Fit
The fit of these shoes is exactly the same as the X-Talon 212, built on Inov-8′s performance last which is relatively narrow. I find that I typically go a half size up in the performance shoes in order to get the width that I need. This adds a little extra length to the shoe but I've never found this to be a problem.
Use
As I already mentioned, I got these shoes for winter use thinking the metal studs would be good on ice. For straight running on flat icy surfaces these grip just fine, but on uneven icy trails when moving at speed I found that I needed a little help from sheet metal screws. These shoes aren't marketed as an ice-running shoe so this isn't necessarily a fault in the product. This past winter I typically wore these for runs up to 17 miles on snowmobile trails.
Where these shoes really excel is on wet rocks and roots. Inov-8's sticky rubber has always been good on wet rock, but I've never found anything that gets good traction on wet roots or wood until I found these. The trails at Bradbury Mountain State Park, like many in Maine,  are incredibly rooty, and when those roots get wet they are super slick. Bradbury also has a lot of wooden bridges that become some of the most treacherous features in the park when they're wet. I chose to wear these shoes for the Bradbury Scuffle last weekend, it has rained two days before the race and the roots and wooden bridges were still a little slick on race day so I was grateful for the added traction when moving fast on the tight corners.
For my shorter, faster runs I'll probably go between these and my X-Talon 212's depending on the conditions and terrain. I've got just over 300 miles in these shoes so far and I expect I'll easily be able to get another 300 more so maybe I'll try them out on some longer runs and see how they feel.