Shoe Review – Inov8 Race Ultra 290s
Inov-8 Race Ultra 290 by John Rodrigue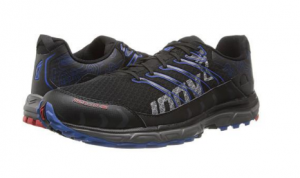 Well, I have progressed through several models of the Inov-8 trail shoes and still use several of them depending on the terrain, distance and conditions of the trails I will be running. I have been wearing the 280s for shorter technical distances and conditions, less than 20-25 miles and also wearing the 290s for similar conditions and distances. Both are great shoes and I like them, although, I run distances greater than 20-25 miles. Many of those miles are in the mountains with huge elevation gains and quad pounding descents. These training runs are typically over 8 hours on my feet and the 280s and 290s just weren't cutting it in keeping my feet happy. I decided to purchase a pair of the Inov-8 Race Ultra 290s and give them a try and love them. My feet have been happy, less beat up and recover quickly. Also, the shoe is holding up to the difficult jagged rocks and slippery wet roots in the mountains. They also drain well which is a necessity for that type of running.
I have been using a pair of the same trail shoe and just rotating them each use and I am getting big miles with them with little signs of wear on the sole or uppers. They seem to be holding up well in tough conditions.
Here is some information about the shoe:
Gender:  Men's size 10
Price:  As low as $56 and as high as $125
Flex:  Somewhat stiff but flexible and comfortable
Grip and Outsole:  The Outsole is more durable than the traditional sticky version of the high profile lugs but this lower-profile lug pattern. The lower profile may not appear as aggressive but it is designed for improved climbing and descending. The heel outsole is a denser as indicated by the red color. The light blue color around the edge of the outsole is the least dense and the black ranging in between.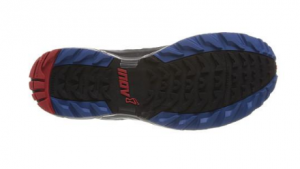 Uppers:  The uppers are breathable soft mesh but durable, which allows water to drain well while keeping your feet happy and dry as possible. The uppers keep mud and gunk out well too and are easy to clean with a hose and a brush and dry quickly. The tongue is padded and made so that tiny rocks and debris don't come in through the upper and the width is narrow, which I like but allowing enough space in the toe box for space. I like the laces as once I double knot them they stay clinched and tight, rarely ever need to stop to re-tie them but have difficulty untying once and awhile if covered with mud, ice or snow. The toe kick protection is very durable and in past models the toe seems to separate from the mesh upper, although, this model seems to be holding up well. The toe kick and armor around the toe box adds great protection and it's durable. They have added an additional armor from the toe back to the heal as well that adds some protection and durability to the shoe.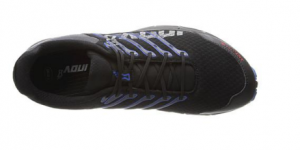 Feel:  I love the feel of these shoes. They feel like a more traditional (Road) shoe. The heel cup is higher and seems to give more stability and comfort. The narrowness works well for my feet and grips tightly to my heel and arch.
Drop:  8mm
Weight: Roughly 9-10 ozs but feel light on your feet
Fit:  Narrow neutral shoe
Shank:  Trail Rock Shank
Sole:  Optimal Cushioning, flatter lug for ground feel, denser not as sticky rubber as past models
Outsole compound:  Tri-endurance compound material, three different densities as shown by color.
My thoughts and impressions:  I really like this shoe. It felt great from the first step as a new show to the current condition they are in. It did not take any adjustment. The cushioning has worked well to keep my feet happy and comfortable without any major issues like blistering, skin peeling or hot spots.
They drain well, clean easily and dry quickly in between runs. The only thing that I have done to alter this shoe is to remove the standard insert it comes with and replace it with an over the shelf insert that I cut to a proper sizing. I'm not sure I would need to do this, but I have been doing it for years with every shoe I have worn so old habits are hard to kill.
I find the outsole grippy enough to run on any terrain even though the lugs are flatter and less aggressive. The material is stick "sticky" enough to give stability and confidence on all terrain. I like the midsole plate for protection and seem to give plenty of flexibility and a comfortable ride. I have had to forge many rivers and streams and they have drained well even during the run. I like the looks of them. The color is not offensive and it looks like a trail shoe, which I like a lot, although, the colors of black and blue do not indicate that's what will happen when wearing the shoe…. hahahaha.
I have worn these shoes for distances from 15 miles up to 80 miles. They take a beating and keep on ticking. Like I mentioned they last even when getting beat up on jagged rocks in the mountains. Even with snags and possible root and stick puncture situations, they seem to do well to deflect it from happening.
I think this shoe is great for longer distances if they fit your feet well, they are definitely worth a try. I have not had any issues with them other than leaving a pair in front of a campfire and having the toe piece melt to a point I could not wear them! That was my dumbass move.
It takes time to find a trail shoe that works well for your feet but when you find it you know. I think this is the one for me, now to get as many pairs as I can before they discontinue them or I can't find my size.
Here are a few field photo's from several Mountain training runs. My friend Mike is in one of the photos shown: