Race Report
Runamuck 50k
Windsor, VT
April 2, 2016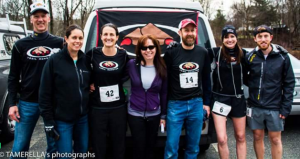 The Runamuck, I had no idea what this event was, where it was being held or anything about it until I spoke to Tom (AKA Lost Osprey) about his event plans for 2016.
He mentioned "The Runamuck 50k" a free entry event in Vermont. It sounded interesting so I did some research. This usually starts by asking teammates if they've run it or know anything about it. I'd rather hear about their experiences rather than just reading a description on a website, but I didn't find anyone who had run it.
I hesitated to register until I had made a final decision that I would be traveling to California mid-May to run my next 100 miler. This 50k seem to fit in well with getting some time on my feet, so I registered and immediately contacted Tom to ask about his plans and the possibility of traveling together. I later found out we had other Trail Monster Running teammates that had registered. Amy and Allyson would also be running with Rebecca attending for support and Tammy as a photographer. This would be the TMR Team. Also, our friend Brenden would be pounding the ground with us.
It's a go, Tom had decided he would get BamBam, his white VW camper bus, out of storage for the trip and head over to Vermont on Friday, spend the night and then drive a short distance to the event Saturday morning. Tom invited me to go along and I jumped at the chance as I will never refuse an adventure with Tom and BamBam.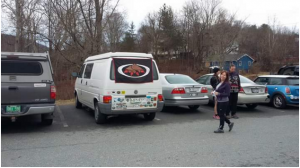 The travel to VT was as I expected. Tom and I had our usual conversations of life, sharing experiences, discussing family, friends and adventures. It's never a dull trip when traveling with Tom. I've grown to understand him and appreciate his old school ways since being an old guy myself, I get it. We share a lot in common.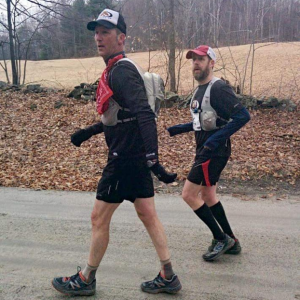 We chatted the entire distance until we pulled into a small diner across the street from Colby Sawyer College in New London, NH. Tom had done some research before this trip. He knew I liked "poutine", a Franco-American style food which consists of potato fries covered in gravy and cheese curds. He knew of this diner called "A Hole in the Fence" so he planned a stop there for dinner. Unfortunately, they had run out of poutine, but we still had a great dinner before traveling on.
The weather had not been favorable for this trip. As we departed Maine the rain had begun and it had continually become heavier as we traveled. Tom had to pull back the reins on BamBam a few times due to poor visibility and road conditions but we were not in any rush. As we continued the journey, Tom mentioned he could not find any campgrounds in the Windsor, VT area that were open this time of year so he asked if I minded staying at Campground de Walmart. I had no problem with that as it just adds to the adventure, and it did.
We pulled into a Walmart but the town name escapes me! We find a secluded corner of the parking lot at the edge of woods with a ravine and stream below, seemingly a great location, and it was. We head into the store to gather items for breakfast and use the restroom and as we made our way into the store we notice several large groups of high school kids gathered in the parking lot hanging out. Seemed odd they would be hanging in the parking lot of a Walmart but we guessed they have to hang somewhere! Well, Tom and I prepared BamBam for sleeping and Tom had his beer and we prepared for a good night's rest, or so we thought.
The high school kids seemingly had other thoughts. They hung around into wee hours having a good time, revving the engines of their cars and taking them for spins around the parking lot! I guess they were simply doing what high school kids do on a Friday night in Vermont. They finally left the parking lot and a quietness fell. We could get some sleep. Morning came, the only reason I knew is the street sweeper showed up to sweep the parking lot….hahaha, yup, a street sweeper. It started at the far end of the lot and worked it's way towards where we set up for the night. I'm not sure if Tom heard it or not, as Tom has much more time in his BamBam than I do and he may be used to the noises while trying to sleep, like me getting up to go pee several times. Getting old sucks.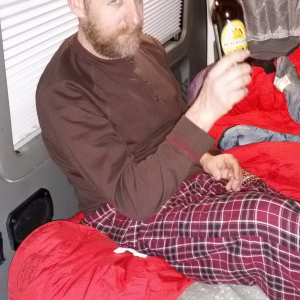 Well, the time had come to rise and shine and we had a run to get to. We got dressed, packed up and hit the road. We had a 20 minute trip to the Windsor High School where the event was being staged. The rain had stopped and the weather was just as they forecasted, cloudy, cool and chance of showers in the afternoon. The ride to Windsor was good, I had breakfast along the way as Tom drove. We discussed what our plans might be for the run and this is where Tom mentioned the longest run he had done had only been 15 miles!  I don't think I showed my concern at the time, but Tom later asked if I was concerned that had been his longest run? I was a bit concerned, he would be running twice the distance on what I knew were tough conditions with lots of hills and descents. See, as part of my scoping of races I have a secret weapon, Snowman. Ryan had sent me a map of the course he had checked out and explained that a good portion of it was the same course as the VT100 which I had run in 2014. Long steep climbs, grueling long descents and all on some of the hardest packed gravel roads you'd ever run on. I knew what it did to me in 2014 and was a bit nervous. It was physically and mentally tough for me, but I wasn't sure how it would hit my teammates.
The event started in an asphalt parking lot that had a long paved descent to get to it. We gathered as Trail Monsters and prepared. Some of us were eager, others laid back and not as rushed to prepare, me being one of them. I didn't get ready until 10 minutes before the start, stayed warm and comfy and didn't want to get into the pre-event jitters.
The Race Director, John, whom Tom and I would play cat and mouse with throughout the entire run, gave his pre-race instructions and then the run began on a count of 3,2,1… we headed up the paved access road. We stayed on pavement for about a mile, gradually climbing as we headed out of town. We ascended for quite some time. Most were running other than the only one smart guy who had begun his run/walk in the first climb.
We, all the Trail Monsters, stayed relatively close together on this first climb, we chatted, joked, had fun and it seemed to pass the first few miles away. But, what goes up in VT, must go down and it did, hard long descents that beat the quads into submission. That's a feeling I now long for and have learned to love. I was ready.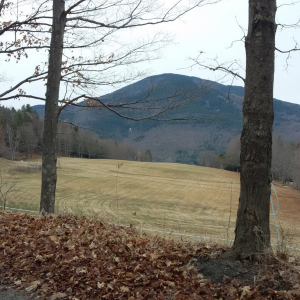 Tom and I had stuck together through the first 5-7 miles and I had thoughts that eventually we would part ways. I stopped to empty my bladder after a long descent and figured he would be gone after that, but I managed to catch him. We ended up sticking together for the entire run after that. We fed off each other throughout, it was perfect. The miles seemed to just pass by quickly. I'd occasionally ask Tom where we were at, but I would guess first, and I was always way short of where we actually were in miles (I still refuse to own a GPS).
This event can be easily described in one statement…."You go up, then you go down, you go up, then you go down" but if you're aware of your surroundings it is an incredibly beautiful run. Yes, I stopped to take pictures, it's what I do. The mountainous landscape was fantastic. Stopping to look back at where we had started was spectacular. The many horse farms, uniquely built homes in the hills, sounds of many rivers and streams, unusual man made ponds, roadside sculptures and stone bridges were awe striking.
There was one freaky moment during this run. As Tom and I approached a group of 5-6 Canadians ahead of us, a herd of deer on the right side of the road came speeding, I mean speeding, across the road, seemingly missing the runners by inches. The herd had maybe seven or eight deer. It was amazing to see them leap across the road in a single bound. We all started hooting as it was so beautiful to see wildlife in its raw nature on the run. As they crossed the road, Tom, as witty as he is, called to the deer that they were pacing too fast and there are still many miles to go….this started the endless laughter Tom and I would have for the remainder of the run. At times it was difficult to keep running I was laughing so hard. Tom did beat me at the game of "First on the White Horse, 5-0". I need to get better at this game.
There were two aid stations along the way and one couldn't have come at a better time, I had no idea where I was with amount of Tailwind I had left. When I pulled my bladder, there were two sips remaining, so it worked out perfectly. I refilled with a baggie of Tailwind I was carrying and water and was good to go. I later found out that Tom had a moment of uneasy stomach issues, but he had never lead on and kept running through it. There is no doubt the hard packed gravel roads of Vermont are tough on the body. They can bite you in many ways, but this day would not be one of them.
The run itself was a great, challenging, pounding and beautiful. The course was well marked and the event was very well organized. However, what made it an especially great event for me was the company I held during the 5:25:35.
Running with Tom was perfect, I'm happy we stuck it out together. It felt like a training run with a buddy. We had fun along the way and it's another adventure in the books. Knowing we had other teammates on the course was awesome. It was a great day to see the TMR Team all cross the finish line. These memories will be with me forever.
I love these adventures and sharing them with so many amazing people. You can't beat a day in the Vermont mountains.