Inov-8 X-Talon 212 by Ian Parlin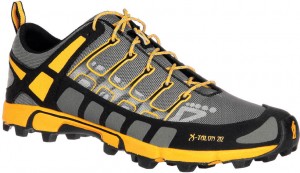 I like Inov-8 because they were making minimal trail running shoes before it was cool. Inov-8 really did a great job with this shoe striking a perfect balance of light weight, great traction and durability. See them in action in this VIDEO on the Bradbury Mountain Breaker course.
Price      $110
Flex       1 2 3 4 5 (stiff > bendy)
Grip       1 2 3 4 5 (slick > grippy)
Feel       1 2 3 4 5 (shoe > trail)
Drop      6mm (heel > toe)
Weight   212 g/7.5 oz
Outsole
The X-Talon outsole has deep, widely spaced lugs with a very high percentage of open area providing excellent grip on all surfaces. The sparsity of the lugs is part of what allows this shoe to be so light weight. Inov-8's "Sticky Rubber" compound provides good traction on wet rocks, better than most shoes but not quite as good as the Inov-8 Roclite outsole which has a little more surface area in contact with the ground. The outsole material is fairly soft which helps provide a little extra cushion to a minimal midsole. The only downside to the softness of the sticky rubber is that it wears out quicker than denser outsole materials, and with the sparse lug pattern reducing the area in contact with the ground the tread seems to wear a little more quickly that other "Sticky Rubber" shoes.
Midsole
6mm heel-toe differential. The midsole is made of a single density foam, very soft and flexible and offering a good amount of cushion. Don't be fooled by the black line along the side, it's just paint and doesn't represent anything structural. The is one of the most malleable trail shoes you'll find out there, only slightly less flexible than Vibram FiveFingers but with way better grip and more cushion. There's nothing in there that adds any stiffness or "protection" to the midsole and as a result you will really feel the ground beneath your feet. This feeling may not be for everyone but I really like it and have no problem wearing this shoe on gnarly, technical, rocky terrain.
Upper
For a shoe that weighs only 7.5 ounces it has an incredibly durable upper. The upper material is a very sturdy fabric with a band of leather (?) that runs around the perimeter for extra strength. I've taken these shoes through some of the roughest, nastiest terrain in Maine and apart from a coating of mud there are very few visible signs of wear. The only damage they seemed to sustain is where the outsole material wraps up the front of the toe it has started to delaminate. The heel cup is low, typical to most Inov-8's, but the 212 has a much softer heel without the typical plastic heel counter you'll find in most shoes.
Fit
This shoe is built on Inov-8's performance last which is relatively narrow. I find that I typically go a half size up in the performance shoes in order to get the width that I need. This adds a little extra length to the shoe but I've never found this to be a problem. This is one of those shoes that feels better once you get it in motion. I wouldn't chose this shoe for a casual walk in the park, but if you want to move fast and light then this is where the 212 is most at home.
Use
I started wearing the X-Talon 212 in 2010 when I decided I wanted a more minimalist trail shoe for shorter, faster runs. I wasn't doing any ultra training in 2010 so I don't think I ever took these shoes over 15 miles, but I did get them out on some very rugged terrain and was surprised at how good they felt. I probably wouldn't use these shoes for anything longer than a marathon, for me I like to have a little more cushion if I'm going to be out for 4 or more hours.
I consider this to be an exclusive trail shoe, meaning I don't like to wear it on road. The main reason for this being that I don't want to wear out the soft outsole on pavement, I want to save it for the trail. I also don't get much winter use out of these shoes, with the thin midsole and small lugs there really isn't enough meat for putting sheet metal screws into (my preferred winter traction device).
I wore these for most of my training runs at Bradbury as well all the races of the Bradbury Mountain Trail Running Series. They're a great racing shoe but if you're into the minimalist approach then they also make a great training shoe. I was most impressed with how well these shoes stood up to some pretty serious abuse on the trail given how light they are.