I'm on my second pair of Inov-8 Mudroc 290's and I've learned a lot from the shoe over the last few years.
In October of 2010 I purchased my first trail shoes from the UK-born company.  Aptly named the Mudroc 290 for their versatility in anything from mud to rocks, and with a weight of 290 grams.  I instantly noticed a lighter, more comfortable, and closer-to-the-ground feel.  My feet were warm in the shoes and I realized right away that they would be my go-to footwear for most winter jaunts.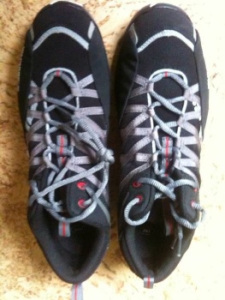 The shoe is designed with a performance last, which means it's a snug fit for ultimate responsiveness.  Because of this, when I switched from normal lightweight and medium-weight socks to Injinji socks (which add volume to the forefoot) they were a bit small in the toe box for any runs over a marathon, and in temperatures above 75 degrees.  Tighter toes equalled more chaffing and occasionally blisters.
The grip on the sole and lug pattern is fantastic for typical New England terrain, which consists of basically everything from sand to grass, rocks to mud, roots, ice, snow and pavement.  The shoe is very rugged with extra protection around the toe box for the occasional toe smash and crashing through crusty snow layers.  I was easily able to install ice-screws for winter running and suffered no detrimental effect when removing the screws in the Spring.
With a 6mm differential they are a good step on the path from traditionally cushioned shoes toward the minimal world.  After over a thousand miles of running on my first pair I still use them for hiking, and yard work, and besides the smell, they're still comfortable.  Of the 7 Inov-8 shoes I own they are my favorite for all terrain, general use.  I wore them for short half hour runs to a 32 hour run during a 100 miler.
More specs can be obtained from the Inov-8 website but here's a little breakdown:
(my foot type is narrow with a high arch)
Fit = Medium – I had to tighten the laces for a snug fit around the ankle, and keep them loose in the toe box – tight with Injinji's
Grip = Excellent – on all terrains
Weight = 290 grams – Great for all-terrain and trainer use
Breathability = Okay – due to a lot of necessary protective material, but great for colder use
Durability = Excellent – minor pealing of the toe box rubber on the sides after 5 or 6 hundred miles – soles remain intact
Water Evacuation = Very slow – once they get wet they stay wet and heavy
Longevity = Excellent – first pair over a thousand miles, second pair almost 700 with little wear
Overall EFFICIENCY on a five scale = 4.5