One Hundred Miles of Solitude:  My Amazing (Mis) Adventures at the 2012 Western States Endurance Run
THE PLANNING: LEVEL ONE
The planning for running the 2012 Western States Endurance Run started almost immediately after being selected in the WS lottery in December 2011.  I was floored to unexpectedly get in on my first attempt in the lottery, and this event caused mixed emotions.  Certainly I was happy to get in, and in terms of physical readiness to train for and run the race, I felt I was well positioned, having completed my first 100 mile race (VT100) in July, 2011, and also that same year completing a traverse of the Maine 100 Mile Wilderness in 43 hours, and the Grindstone 100 in Virginia.  But in terms of economics, it was not a good time to plan a cross continent trip to the posh Lake Tahoe district of the country.  Since I was in the race the moment my name was selected, and my credit card was immediately charged the exorbitant entry fee, I was committed to running, but it was going to have to be Western States, on the cheap, if that was possible.  The goal of keeping the cost down for this adventure dictated much of the planning from here on.
The plane fare was covered through points I had been hording on my credit card for just this event.  My ultra supportive wife (Sara) and kids (Tess and Emmy) would be staying home and cheering for me on-line.  A cheap hotel in Reno for 2 nights before the race and a cheap rental car were secured in January.  I also started to make some connections out west through on-line ultra running communities – I got a lot of good advice on how best to plan and run this race.   Now it seemed that all that needed to be done was put the training in.
THE TRAINING
The goal in training was to get in a good base of winter marathon training leading up to the 2012 Boston Marathon, while mixing in back-to-back doubles involving some FA 50k events with a subsequent 20 mile road runs at least once per month.  Most of this running would be on the road, with some winter trail running thrown in.  Since Western States is a mostly downhill race, running down hill would be a focus.  There is nothing nearby that would approximate the lengthy down hill sections of Western States, so the best I could do was run up a local hill that was about 2.5 mile long, and then run down and repeat.  Sometimes I ran down hard – other times, I tried to run as fast as I could but with as little effort as I could manage, while still maintaining a brisk pace.
In January, after a beach 50k (Cape Cod) and Sunday 20 mile road run, I started to develop some knee tendonitis related to a hamstring strain which was probably caused by running in the soft sand for 31 miles.  I had to cut back my mileage for about 3 weeks, substituting stair master, for running.  This prevented the speed development that I hoped to achieve for the Boston Marathon, but it probably helped me develop into a better climber, for which I was later grateful at Devil's Thumb.
The Boston Marathon date came, and, given it was the hottest race in 100 years, the idea of speed development became irrelevant.  I finished the race, on a day when the official starting temperature was 80 degrees, and probably topped out at 90 degrees in the street, in a respectable time.  The focus now was for a quick recovery and a trail 50k (plus 20 road mile the next day) and more trail running leading up to the Pineland 50.
The Pineland 50 was 4 weeks before Western States, and that race went well too.  But the question became what to do with the week before the 3 week taper?  Three weeks before WS, I did a back-to-back 20 mile trail run and a 20 mile road run, and after that, I felt a re-occurrence of the knee tendonitis that held me back in January.  This forced a steeper taper than I would have done, which was probably a good thing over all.  The tendonitis slowly faded in the 3 weeks leading up to the race through icing, rest, massage and stretching.
THE PLANNING:  LEVEL TWO
I was not satisfied with my plan to drive to the start line from Reno on race morning.  The race starts at 5:00 am, and you need time to deal with the crowds, check in, and get your bib, and grab some breakfast.  It is a good idea to get there by 4:15 am.  Reno, being an hour away, seemed too far away to be practical.  After some hunting, I found some state parks (Goose Meadows and Silver Canyon) where camping was allowed.  These parks were first come, first serve, and only 10 minutes from the start line.  I cancelled my hotel reservation for Friday night and planned to bring a small tent, a sleeping bag and a small mat in checked luggage.  This extra $25 for the checked luggage would be more than offset by the savings from the cancelled hotel reservation.
In my quest for a cheap air fare to Reno, I made a mistake in not thinking through the most convenient times for flying out of Boston on the 21st of June, and flying out of Reno after the race.  I picked a flight out of Boston at 5:30 am, and a flight out of Reno, Sunday, June 24th at 6:20pm.  After purchasing these flights, I started calculating the timing of these fights and I realized that both were flawed in significant ways.  For example, the flight out of Boston would require driving to Boston and paying for a hotel and parking.  The hotels around the airport are extremely expensive.  Since it is a good idea to get to the airport around 2 hours before your flight, I would still need to be shuttled from a hotel to Logan at 3:30am.  Since a hotel was expensive and driving from Portland impractical and expensive, the only reasonable solution was to take the bus to Logan and sleep at the airport!  I'd have my sleeping bag and mat with me, so setting up camp in the airport seemed the only practical and affordable solution.  It sounds creepy, but it actually worked out.
Also, I made another error in scheduling my return flight at 6:20pm.  With the award ceremony at 12:30pm, I would have plenty of time to catch a shuttle to Squaw Valley (about 1.5 hours away) and drive my rental back to Reno (1 hour drive) in time to catch my flight.  What I missed was that there was only one shuttle sponsored by Western States which left Auburn for Squaw at 3:00pm.  Walking back from Auburn was not an option.  Taking the shuttle back would have caused me to miss my flight.  Changing my flight time would have cost hundreds of dollars, which would have been my only option if I could not manage an earlier ride to Squaw.  I started making inquires on the ultra discussion boards to see if there was some way I could hitch an early ride out of Auburn on the 24th.
Fortunately, I was able to connect with some ultra runners who were willing to meet me at the finish line and take me to Squaw after the race.  I had already connected with Valerie and Brian C. from Reno on the logistics of the race, and they knew other runners and volunteers at Western States, and offered to pick me up in Auburn.  I'm incredibly grateful to these kind souls for getting me back to Squaw after the race, and I enjoyed meeting them in Reno before the race, and then afterwards.
A NIGHT AT LOGAN
The day to depart finally arrived.  I planned to take the last bus out of Portland, which would take me directly to Logan Airport around 9:40pm on the 22nd.  After a pleasant meal with family, Sara saw me off at the bus terminal.
When I walked through the airport doors around 9:45pm I was hit with the reality of what I was attempting to do.  "What the heck was I thinking!?" was the first thing to come to mind.  What I saw as I walked through the sliding doors was a brightly lit airport with wall to wall linoleum and no comfortable furniture in sight.  I wandered in wondering what to do next.  Fortunately, there are actually websites devoted to sleeping over in airports, and I knew from research that there were rocking chairs and a relatively comfortable spot for waiting between Gates B and C, so I headed for that spot in the airport.
Sure enough, there were the rocking chairs (they were wooden with no cushions) right near the spot under an escalator that was dark.  I sat down in one, pulled up another chair for my feet, and set into reading.
By 11:00pm, I was tired and over any feeling of self consciousness about "camping" under the escalator with my mat and bag.  I blew up my mat, unfurled my bag, stuffed my luggage under the escalator so as not to be ripped off as I slept, and settled in to sleeping in fits and starts to the sound of the escalator's repeated squeak.
At 3:45am I was up and packed and headed to the airport terminal.  I would catch some better sleep in the hotel in Reno.
RENO
The flight to Reno was uneventful, and by noon I was in my hotel room, working on my drop bags.  Reno is an interesting combination of kitschy downtown with beautiful mountains nearby.  Also, being within driving distance of the Sierra Nevadas, Sacramento and San Francisco are plusses to living here.  I learned that Reno gets plenty of snow, and that drivers are required to put snow chains on their tires when the city makes the announcement.  Crazy!
THE RACE PLAN
Given the high number of aid stations, the plan for this race was to go light.  I would start out with just a waist pack and a couple of Cliff Bars in that, and one 20oz Nathan bottle.  I would rely on the aid stations to restock my supply of gels and for solid food.  I planned on 4 drop bags to place on the course.  The first bag was at Robinson Flat (mile 30) with an Ensure, a Cliff Bar and sunscreen.  Because the course was unusually dry, I would not need a change of shoes here.  The next bag at Last Chance (mile 43) with an Ensure, an extra water bottle for the canyons, if it got hot, and a flash light, in case I did not make it to Foresthill (mile 62) before dark.  At Foresthill, I had a bag with an Ensure, my hydration pack, two Petzel head lamps, extra batteries and a jacket if it got cold.  On the far side of the American River, at the Rucky Chucky Crossing (Mile 78), I had an Ensure, a long sleeve shirt, shorts, sock and shoes for changing after fording the river.  The forecast was for unusually cool weather – a low at the start of about 50 degrees and a high of about 75 degrees – t-shirt weather.
The plan for running the race was to run by how I felt, and not be too concerned with time in the early miles – taking it easy on the technical portions early in the race, and conserving energy in the canyons so that I still had something in the tank at Foresthill to take advantage of the easier running.  If I broke 24 hours, then great, but if I didn't, that would be OK too.
I figured I would be warm enough after the first climb to wear a t-shirt for most of the race, so all of my warm weather gear was in my drop bags.
The day before the race, I drove to Squaw in my rented Kia, and noted the campgrounds close to the start.  I would check in with the race, and then set up camp before heading into Tahoe City for some Chinese food.
This is the entrance to Squaw Valley – the Olympic Flame still burning on both sides of the street.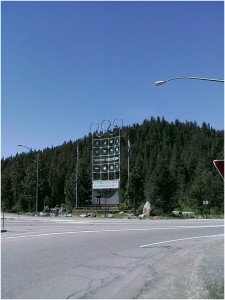 Here's the famous starting gate: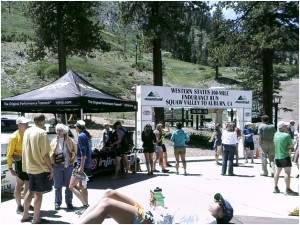 I weighed in at 4 pounds heavier than mid-week (pre-carbo-loading), picked up my schwag, dropped off my bags and waited for the "mandatory" race meeting.  Sitting in the sun at this meeting for over an hour, I got more sun than I did during the entire race.  This is the race meeting scene.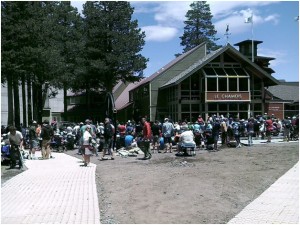 The meeting was filled with the pre-requisite recognitions and congratulations, without much which was informative about the race or trail conditions until the very end.  At that time, the master of ceremonies (John Trent, who was going for his 1000 mile buckle) was handed a sheet, and said "Oh, the forecast for tomorrow is for winds with 31 degrees on Squaw Mountain, and 50 degrees at Miller's Defeat (mile 56). "  "Uh oh," I thought.  That was a lot colder than I expected.  And all of my cold weather gear was headed for the aid stations on the course.   "Going to need to buy something," was the next thought.  The village had a North Face Store, and I settled on a long sleeve tech pullover with a hood, thumb holes and a goofy looking red and blue North Face logo on the front – "It'll have to do."
CAMPING OUT
Now that I had settled on my gear for the race, next step was to secure a campsite close to the start, pitch my tent, and head into town for dinner.  The first campground, "Silver Canyon" was only 5 minutes from the start.  I drove in and the sign said to claim a spot and the attendant would come by for the fee ($17 per night).  The campground was tightly packed with sites right on the Truckee River and off Route 89 – not the most ideal place to camp except for the location.  I started to drive around and noticed that all of the sites were reserved.  "Crap!  What if all the sites are taken…wait a minute, did I pass one?"  I thought I passed an open site, so I started backing into the site when I felt and heard a crunch in the rear of the car.  I put the car in drive and started forward, but the front wheels just spun in the sandy dirt.  "What the heck!"  I got out, and campers were approaching from all sides to see what was up.  What we saw was the rear of my car perched on a rock I had missed – the gas tank was right on top of the rock and both rear wheels were off the ground.  After attempting to lift the car off, and using someone's small jack, it was decided that the only way out was to call a wrecker – "oh boy, just what I need."  I called AAA at about 4:00pm, and was told the tow truck would be there in about 45 minutes.   There was no choice but to wait it out.
By this time, the caretakers of the campground had come by.  They were a couple from the Waterville, Maine(!) area who sold everything, and had been taking care of this and the other campgrounds along the Truckee for a number of years.  Bill, one of the caretakers, said he had driven a tow truck for many years, and that the car would need to be jacked off the rock, or the gas tank would be ripped open.  The rear bumper had been dislodged by the rock, and there were some minor scrapes on the plastic bumper, but no major damage so far.
When the AAA truck came, the first thing he did was bring the tow cable to the front of the car.  Both Bill and I told the guy to wait a minute –  the car need to be lifted off the rock and probably didn't need to be towed.  Eventually, he brought out his jack and jacked the car off the rock.  The solution was not that simple, though, because as soon as you moved the car, it would fall right back of the rock.  After another half hour of puzzling over this, Bill figured out that we would need to build a ramp for the rear wheels with 4" by 4"s (in the AAA truck), so that the wheels could be set down from the jack onto the ramp, and then pushed from the rear clearing the rock.  Once this was accomplished (with applause from the crowd) the bumper snapped back into place – all's well that ends well!
Bill said he thought he had a site up the road at Goose Meadows, so I followed him in the Kia, and took an open site about 10 minutes from the start.  I was a little shaken to come so close to disaster, but there was not a lot of time to think about that – I pitched my tent and headed into Tahoe City for dinner.
Tahoe City is a small town resort town right on Lake Tahoe.  The feel reminded me of Naples, Maine, with stores and restaurants catering to tourists, except on a much more up-scale level.
After dinner, I settled into my tent for a rather restless sleep.
THE RACE
Whew!  After all that, it was incredible that I was getting to the start line, but here I was on race morning, getting up before the alarm at 3:40am, and stuffing my tent into my car and heading to the start.  When I turned on the engine, the radio began playing George Thouroughgood and the Destroyers' "Bad to the Bone."  That'll do.
It was cold enough for long sleeves – I had a short sleeve shirt on underneath, and the plan was to rip off the long sleeve and stow it in a drop bag once the sun came out.  I was lucky enough to find a picture of the crowd waiting for the start.  I'm on the left.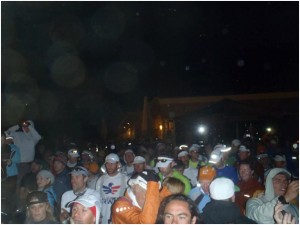 The hike up to Escarpment was mostly a dirt road, so, although it was over 3 miles of climbing, it was not a difficult hike.  I warmed up quickly and ran some of the flat portions.  My goal was to be on track for a 24 hour finish by the Escarpment Aid station (55 minutes).  After that, I would just run by feel and take what the day gives me.
A little ways up the mountain, it started to sprinkle.  By the time I was half way up, it was hail and rain.  The winds picked up too, with gusts at about 40 miles an hour, blowing hail and dust straight down the mountain and in your face.  My hands started to freeze, and I was seriously worried about frost bite (or hypothermia), because the wind chill was significant.  I was glad I had the long sleeve on, or I would have froze.
This is what the climb looked like: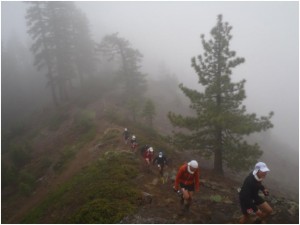 There were no views at the top, just hail, wind and clouds.  I took my sunglasses off my hat to keep them from blowing off.  My hands got so cold, it was hard to open the gels in my pocket.  This weather continued for the next 30 miles.
Once we started down off the mountain, the trail was relatively technical, which was expected.  There was no snow on the mountain, and the trail was dry for this time of year.  I was able to keep my feet dry in the early going, even though my upper body was wet from the rain and hail.
I took it easy on this stretch, walked some of the steep down hills, and let a lot of runners pass me.
The aid station workers looked soaked and miserable.  They offered warm soup, which was unusually welcome so early in an ultra.
We were in the high country, and although there were no views, the wild flowers were impressive – with many varieties in bloom.  There were also fields of wild sage, mixed in, which smelled something like cilantro.
My stomach was not feeling so great in the early going.  I'm not sure if the altitude affected that at all.  It is surprising that when your stomach feels queasy, it is harder to run, even though your legs feel good.
As we started out descent into Duncan's Canyon, the trail turned into very runnable single track.  This was a consistent pattern throughout the race, where you would encounter some rocky technical stretches, but then long stretches of runnable single track.  It felt good in this stretch to relax and let gravity do the work of bringing me into the Canyon.  This is a picture of my approach to the aid station at Duncan Canyon, about mile 25.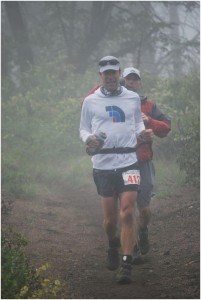 This downhill running seemed to go on and on.  That was also another pattern.  The flora was much different in the canyon, with much more lush vegetation, and fewer flowers.  Once I got to the bottom, I began the long climb to Robinson Flat and the high country again.
Robinson Flat (mile 30) was the first aid station with a medical check in.  I weighed in at about 5 pounds over my initial weight.  I was surprised but someone said it was just water.  I downed an Ensure at the aid station, but this made me feel queasy again, so a decided not to eat or drink anything for about an hour.  My stomach felt sloshy.
From Robinson Flat, it is a little more of a climb, and I was greeted by winds and sleet, and another long downhill.  The first part was pretty rocky and technical, but not steep, so it was OK running.  Then the trail turned into a dirt road, continuing downhill, which made for easier running.
By Dusty Corners (Mile 35) the sun started to peek out, and it got warm enough to get out of my long sleeve shirt.  I grabbed a piece of watermelon and some ginger ale.  I also took a salt tablet for the first and last time.
The stretch from Dusty Corners to Last Chance (mile 43) was a very pleasant single track trail, with few rocks, and packed dirt.  The trail winded and twisted down the side of the mountain with lazy switchbacks though tall pines, spruce and cedar.  Although I was in the trees, I started to get glimpses of the gorgeous views.  This very runnable down hill section was one of the highlights of the course.  I was, at times, walking even some of the runnable sections, but my legs still felt good.
Last Chance was the next medical station.  I weighed in just 3 pounds under my initial weight – which was good.  I stuffed my flashlight into my waist pack, and skipped the Ensure, as I did not want to get into a queasy state again.  My stomach felt better, and I was ready for my descent to Devil's Thumb.
The trail quickly turned into very steep and technical switch backs.   This is not my strength, and since I was avoiding beating up my legs so early in the race,  I took it easy, and walked some of the difficult parts.  I was passed by about 5 runners here, but I didn't care, at this point.  I had no idea if I was on track for a 24 hour finish, although, given that I was moving well and not stopping, I figured I was within striking distance.
Down, down, down, we went to the bridge at the bottom of the canyon.  The canyon was not hot, however, and I left my extra bottle at Last Chance.  I never ran out of water.
Finally, I got to the bridge and started the long climb up Devil's Thumb (mile 48).  I had heard about this climb from other runners – it is supposed to be the hardest climb on the course.  It is only a 1 mile climb, but it is very steep, with 37(?) switchbacks.  I kept a steady pace throughout and passed all of the runners who passed me on the way down.
At the top, I felt hot and dizzy, so I took I think one of the longest breaks here (6 minutes) at the aid station.  I looked down at my watch, and the elapsed time was 11 hours and almost 30 minutes.  Not bad, I thought, as I gathered myself and headed out.
The trail down to El Dorado Creek was more runnable than the trail down to the foot of Devil's Thumb, and I felt like I was moving well and making good time.  The Climb up to Michigan Bluff (mile 55) was longer, than but not as steep as the climb up Devil's Thumb.  I made steady progress again, passing a number of runners.
Just coming out of the canyon: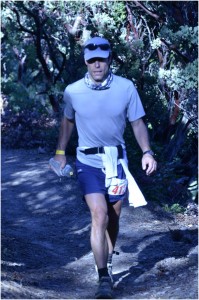 When I got to Michigan Bluff, I had a sense that I was behind the 24 hour pace.  I weighted in and remarked that I felt like I was behind, and the MD at the scale said "no, you're not."  Then he started to ask me how I was feeling.
"Are you eating and drinking?"
"Ahyuh."
"How are you feeling?"
"Fine – time to get out of here!"
On the way out, I looked at the aid station sign which allows you to check your pace.  Each aid station had a sign which told you what time it should be at that moment if you were on a 24 hour pace, or a 30 hour pace.  I had ignored them up to that point, but at this point, I wanted to know.  I switched my watch to reveal the time, and I was surprised to learn I was a full hour off the 24 hour pace.  Ugh!  At that point, I realized that finishing under 24 hours meant more to me than I initially thought.
Something lit a fire under me.  I was still a long way from the finish, but I determined then that I would start pushing and if the wheels came off early, well, at least I'll hopefully be able to finish.  I knew I had the easiest part of the course ahead of me, but gaining 1 hour on the cut off seemed unreachable.  In any event, I started running harder downhill and even some of the up hills.
I was passing even more runners as I cruised into Foresthill.  It was still daylight, which I thought was a good sign.  An older gentleman asked me if I needed a pacer.  I told him I didn't, and he started to argue with me.  "Oh, you may feel good now, but you will need one!"  "Maybe later."  Then I realized that I saw the same guy in Unbroken, speculating about how the lead runners were faring.  Wow.
An aid station worker got out my bag, while I stuffed my face with a quesadilla, and he helped me organize my pack for the night while I took off my t-shirt and put the long sleeve back on (it was not warm and it felt like it would be a cold night.)  That worker did a great job getting my pack together and on.  Then he said, "Do you want to wipe off your face with a sponge."  I thought, "what the heck for?"  I demurred and he said, "Well, I think you should."  I probably had dust and dirt all over my face, sticking to the snot and the sweat – I grabbed a sponge and cleaned up before heading out.
The race became a game – how far could I get before it got dark?  I was passing more runners at this point, and pushing as hard as I could to cover ground before nightfall, and the likely slowdown.
It was funny that none of the aid station workers said anything about breaking 24 hours, even though it was obvious I was pushing hard.  It was as if the first rule about breaking 24 hours is that you don't talk about breaking 24 hours.  None of the runners talked about it either.
The trail down to Peachstone (mile 70) was easy downhill running and I passed this aid station while it was still light – things were looking good.
It was time for the headlamp between Peachstone and Ford's Bar (mile 73).  At Ford's Bar, I took out my new flashlight, a Fenix LD20.  I put the light on turbo, and at 180 lumens, it is like a spot light.  I was surprised how easy it made night running.  Unfortunately, at that setting, the batteries are drained in just a couple of hours.  I had to stop to change batteries before I got to the river.
More easy running on dirt roads to the river crossing at Rucky Chucky Near.  I hopped on the scale (no more weight loss) and a worker came up to me and asked me what I wanted.  I said I just wanted to cross and I would get something on the far side.  He asked, "Are you trying to break 24 hours"  "Yes."  "Then what the f— are you hanging around here for, let's get you in the water!"  He told me I was 35 minutes off the 24 pace, but I could do it if I hustled.  I had just under 5 hours to run 22 miles!  That seemed within reach, but I would have to run most of the way.
The water was cold, and waist high, but not as cold as the Gulf of Maine in August – the runners ahead of me were complaining, but I thought it was refreshing.
Once out of the water, I grabbed a few potatoes, downed a coke, and headed out.  An aid station worker asked me if I wanted my drop bag, but I had no time to change clothes.
From the American River, it is a 2 mile climb up to Green Gate (mile 80).  It was discouraging to be climbing when I wanted to run.
From Green Gate, you get on the Auburn Lake trail, which is mostly single track and rolling, with some technical spots.  The trail was getting very dusty, and the runners, if they were near, were kicking up dust.  I started leap frogging runners at this point, all likely pushing to break 24 hours.
At one point, I felt like I was turned around and possibly off the trail.  I had not seen a marker for some time.  I doubled back, but fortunately, a runner and his pacer came by, and the pacer told me this was the right trail.  This pair was running harder than I was, so I trailed then the rest of the way to Auburn Lake Trails (mile 85).
Another weigh-in and more questions from the aid station doc:
"Are you eating and drinking?"
"Yes"
"Have you vomited?"
"No."
When was the last time you urinated?
"Some time ago, I don't remember."
"Do you want to continue?"
"Yes!" (are you kidding?)
I got out of there ahead of the runner and his pacer.
I was still running, although I must have been running pretty slowly by that point.  It seemed to take a long time to get to each aid station, although the distances were not far.
About halfway to Brown's Bar (mile 90), I saw a flash of light on the trail that was moving.  It was a skunk on the single track, running away from me with its tail straight up!  I slowed down not to get too close, and the skunk gave me a warning spray.  Now I was walking behind the running skunk that would not get off the trail.  The ground was steep (up) on the left, and (down) on the right, so there was no way to pass the skunk.  Yelling at it did not make it move off – I threw a stick at it, but it just kept running.  It would disappear around a bend, and I had to slow down to avoid getting too close.  After about 200 yards, of scampering, it must have gotten tired, because it finally climbed up the embankment.  I waited for a bit to make sure it was gone.  The runner and his pacer caught up and passed me here, saying they smelled the skunk.  Oh well.
Another long climb up to Highway 49 (mile 93.5) – I had about an hour and a half to go 6.7 miles.  That seemed within reach, but I knew that I had one more climb before the finish, so I would need to keep running.  The wheels were definitely falling off by here.
Both my flash light and my 2nd headlamp were fading here, and there was so much dust that it was hard to pick up the trail.  Switching batteries would have helped, but I just did not want to stop on this long downhill section.
When got to No Hands Bridge, I asked how far to the finish, and the worker said, "You got it; you have an hour to go 3.1 miles."  I kept running, not wanted to leave anything to chance.
The climbing was pretty steep, and I was glad to get off the trail and onto the more stable pavement.  About 1.5 miles from the finish, there was a final aid station.  A worker asked me if I wanted anything, and I said I wanted to keep going.  He said that was a good idea, and that I had another half mile of climbing, and then things flattened out before the high school.  Jeez, more climbing!  I started running up the hill – I was ready to be done.
What a feeling to finally get on the track, and know I was going to break 24 hours.  I heard the PA system talking about John Trent as I ran around the track – so I knew he came in just ahead of me.  Then, I heard my name as I crossed the finish line.  Relief!
PLACER HIGHSCOOL
The first thing the race officials did was sit me down and stick me with a needle to draw blood for their "experiments."  I didn't care.  Once that was done, I was shivering and I thought I was going to hurl.  I got a water bottle and wrapped myself in some blankets and laid down on one of the cots in the tent.  After a while, I felt good enough to hit the showers.  I had a drop bag here with clean clothes, and towel and a shower kit.  After the shower, I went back to the medical tent and slept for about an hour.
Valerie and Brian met me at 8:00am.  We had brunch and watched the runners come in.  Because of their generous help, I got into Reno around 2:30pm, repacked my bags in the parking lot of a Mexican Restaurant, and had lunch there.   Everything else went smoothly.  I got a connecting fight in San Francisco, and slept the whole flight.  I caught the bus at 6:00 am, and slept some more until I rolled into Portland.
Because I didn't stay for the award ceremony, I was told I could not collect my buckle, because they would be short (it was a record for sub-24 hour finishes.)  I was told by the RD that it would get to me by mid-July.  I can wait.